Our Menu

Deliver on 11th Feb for 12th/13th/14th Feb (Lunch & Dinner)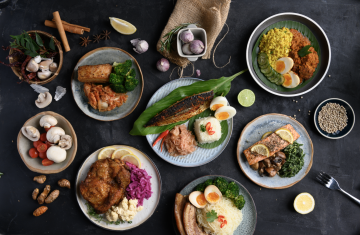 Assam Seabass Fillet
Egg, Green Bean, Konjac Rice
Seabass fillet cook in spicy & sour sauce, served with green bean sautéed in garlic and konjac rice.
Nutrition Fact: Calories 831
Fat 66.7g, Protein 40g, Total Carbs 16.6g Net Carbs: 10g
Black Pepper Pork
Sautéed black pepper pork belly with sautéed caixin, baked cauliflower, and braised shiitake mushrooms.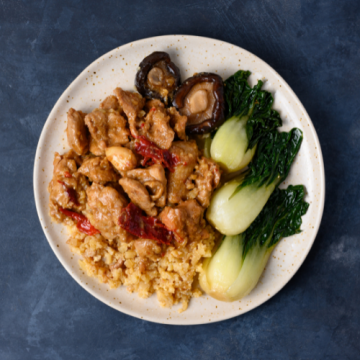 Kung Bao Chicken
Sautéed kung bao chicken with garlic nai bai, enoki mushroom, and lady finger.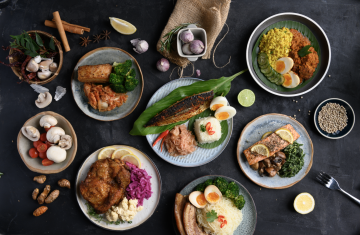 Herb Rubbed Pork Chop
Roasted Cauliflower, Sautéed Mushroom, Apple Cider Cream Sauce
Herb rubbed pork chop that is brine for tenderness, simply roasted cauliflower & sautéed button mushroom, apple cider cream sauce
Nutrition Fact: Calories: 1054
Fat: 89g Protein: 48g Total Carbs:13.7g Net Carbs: 8.5g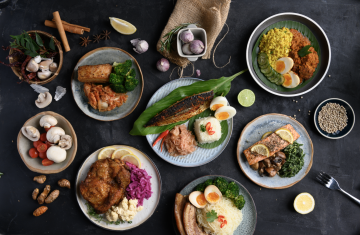 Baked Mustard Pollock,
Cauliflower mash, Thai asparagus, Greek yoghurt dressing
Pollock marinated with Dijon mustard and herbs, cauliflower is cooked till soft, mashed with butter and cream cheese, roasted thai asparagus and tangy yoghurt dressing.
Fat 67.4g, Protein 56.8g, Net Carbs 9.6g Total Carbs 14.3g, 875/ Kcals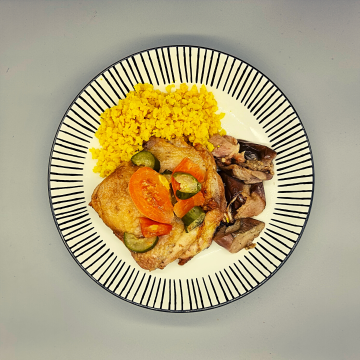 Cajun Chicken (Keto)
Roasted cajun chicken boneless leg with cucumber and tomato with yogurt, turmeric cauliflower, and baked eggplant.
Our Menu

Deliver on 14th Feb for 15th, 17th, 18th Feb (Lunch & Dinner)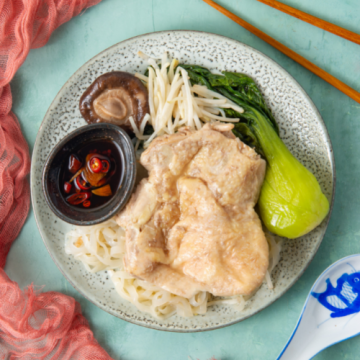 Herbal Chicken Noodle
Herbal chicken whole leg soup with bok choy, braised mushroom, cabbage, konjac noodle, and chilli sauce.
Butter Chicken with Biryani Cauli Rice (Keto)
Sautéed buttered chicken with garlic broccoli, yogurt cucumbers, and biryani cauliflower rice.
Beef Stroganoff (Keto) (FF)
Sautéed beef slices with wilted button mushrooms, baked asparagus & tomatoes, roasted broccoli, and sour cream.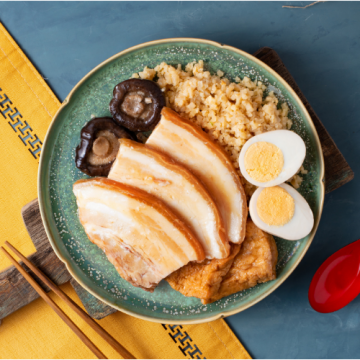 Taiwanese Lor Bak
Taiwanese lor bak with braised egg, mushrooms, garlic bok choy, and fried cauliflower rice.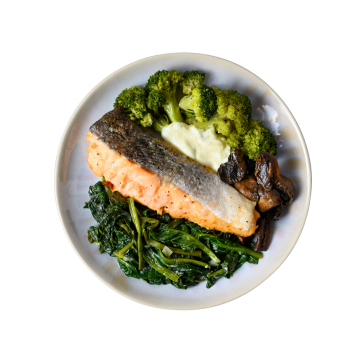 Lemon Herb Salmon
Baked lemon herb salmon with creamy spinach, roasted broccoli, sautéed button mushrooms, and lemon cream sauce.
Fat: 89g, Protein: 36g, Net Carbs: 9g, Total Carbs: 14.5g, Calories: 1003Kcals