Deliver on 10 March for 11/12/13 Mar (Lunch & Dinner)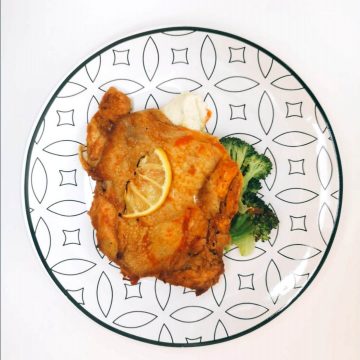 Lemon paprika Chicken boneless leg
Mashed cauliflower, lightly charred broccoli, sake butter thyme sauce
Boneless leg chicken leg marinated with smoky paprika and lemon jus, cauliflower mashed with butter and cream cheese, broccoli seasoned with garlic, salt, pepper and lightly charred , served with sake butter & thyme sauce
Fat 60.8g, Protein 53.9g, Net Carbs 9.6g, Total Carb 14.1g, 814 Kcal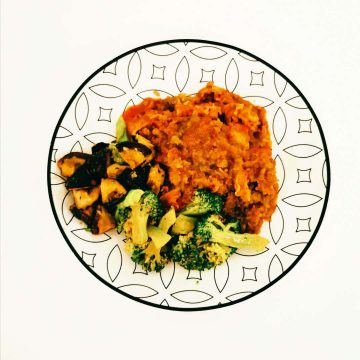 Spicy Pork Belly Bulgogi
Onion, Shitake, Lettuce, Konjac Rice
Pork belly marinated with homemade keto Gochujang (red chilli paste), served with sautéed shiitake, shredded lettuce and konjac rice.
Nutrition Fact: Calories: 862 Fat: 84.3g, Protein:31.6g, Total Carbs: 29g, Net Carbs: 10.2g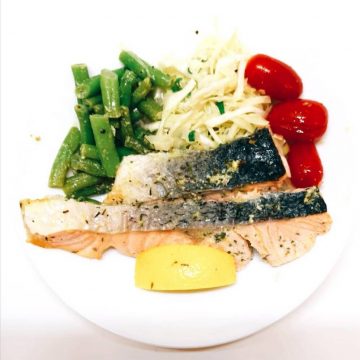 Garlic butter Salmon
Dijon green bean ,  cabbage salad, cherry tomatoes, lemon wedge
Fat 73.8g, Protein 35.8g, Net Carbs 10g, Total Crabs 19.2g, 857 Kcals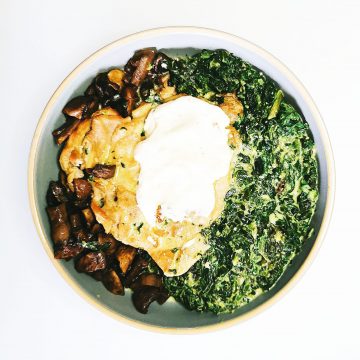 Baked chicken with Dijon mustard
Marinated Dijon mustard chicken with creamy spinach, sautéed bell pepper, roasted French beans and mustard chicken jus
Fat 54.1g Protein 47.7g, Net Carbs 7.3g, Total Crabs 11.5g, 715 Kcals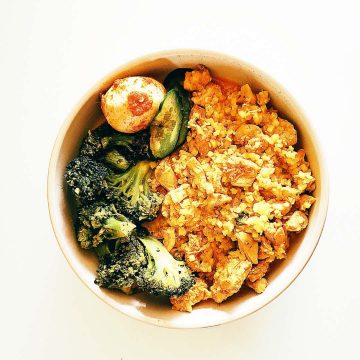 Rendang Chicken
garlic soya lady finger, broccoli, rendang egg and sautéed mushroom
Fat 53.2g, Protein 37.1g, Net Carbs 7g, Total Carb 11.2g. 669 Kcal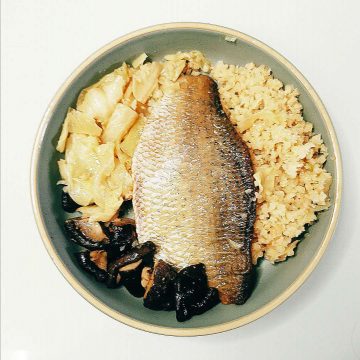 Baked Garlic Soy Barramundi
sautéed cabbage, shiitake, Cauli rice
Fat 75.1g, Protein 37g, Net Carbs 11.5g, Total Carb 18.7g, 888 Kcal
Deliver on 13 March for 14/16/17 Mar (Lunch & Dinner)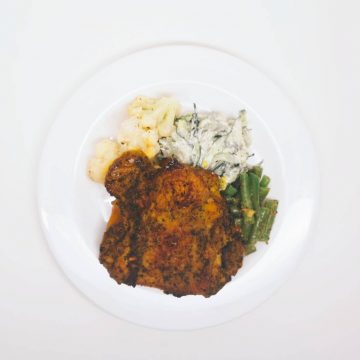 Vietnamese Lemongrass Pork Collar,
spicy fish sauce cauliflower, kai lan, egg omelette
Pork collar marinated in Vietnamese fish sauce & lemongrass, cauliflower toss in fish sauce and chilli flakes, simple sautéed kalian vegetable & homely egg omelette
Fat 62.4g, Protein 41.3g, Net Carbs 9.5g, Total Carb 20.8g, 786 Kcal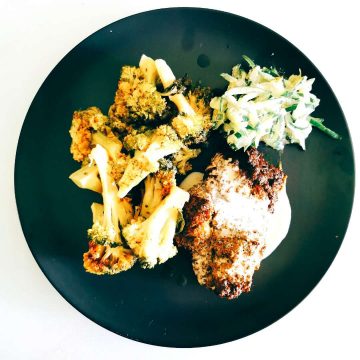 Moroccan Spiced Pork Collar
broccoli, cucumber tzatziki, Dijon cream sauce
Fat 55.4g, Protein 35.9g, Net Carbs 10.9g Total Carbs 16g, 696 Kcal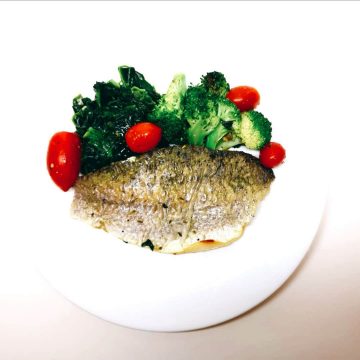 Baked Seabass
Creamed broccoli, cherry tomatoes, wilted spinach, lemon-capers sauce
Seabass fillet seasoned with mix herb and olive oil, served with broccoli cooked in cream and cream cheese, sautéed spinach in garlic, paired with buttery lemon caper sauce.
Nutrition Fact: Calories 946 Fat 84.5g, Protein 35.5g, Total Carbs 11.6g Net Carbs: 6.8g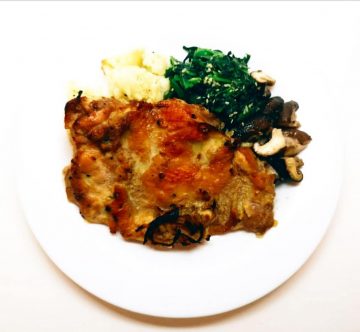 Korean BBQ Marinated Chicken Boneless Leg
 roasted cauliflower, shiitake, sesame spinach
Korean inspired bbq chicken boneless leg, sesame oil marinated local spinach, roasted cauliflower and sautéed shiitake
Fat 50.5, Protein 56.5g, Net Carbs 10g, Total Crabs 18g, 735 Kcals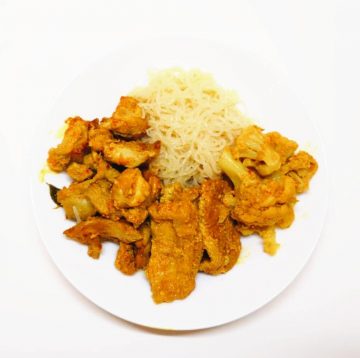 Curry Chicken "Noodle"
egg, konjac noodle, cauliflower, bean curd puff
Our version of popular curry chicken noodle, with a rich coconut broth, cauliflower and fried bean curd puff
Fat 60, Protein 55.8g, Net Carbs 7.4g, Total Crabs 18.4g, 816 Kcals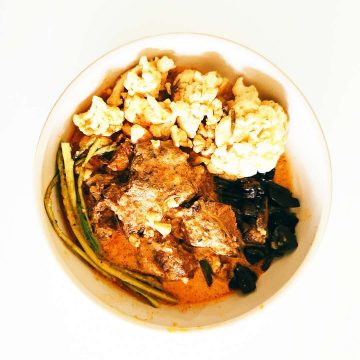 Braised Australia Brisket
cheesy cream cauliflower, roasted mushroom, garlic broccoli mash and beef jus
Fat: 46.2g, Protein 62.4g, Total Carbs 13.6g, Net Carbs 9.9g