Counting your macros this CNY? Here are some treats to indulge in without you falling off the wagon
Usher in the New Year of the Ox with our Ketolicious Chinese New Year menu. You can count on Ketomei to kick-start and maintain your keto lifestyle while indulging in nutritious, scrumptious and creatively cooked cuisine. Our Pen Cai 盆菜 and CNY goodies are created especially for you this festive season. You will enjoy your reunion dinner with our keto-rendition of CNY classics.
Wish to have a wholesome CNY reunion dinner with your family without feeling sinful? We got you covered. Pen Cai, also known as 'poon choy' is a braised treasure pot of goodness, for an unmatched flavour and fragrance.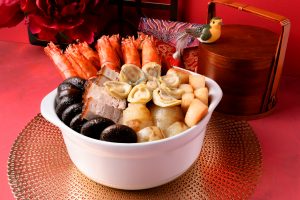 This dish is normally filled to the brim with layers of premium seafood and meat, cut for that thick braised flavour. Our hearty CNY Pencai provides high-quality macro and micro nutrient rich ingredients made of 8 pieces each of abalone, jumbo prawns, scallop, roasted pork, shiitake mushroom and sea cucumber in this prosperous mix for $288. It is delivered fresh and hot to your doorstep on New Year's Eve, with limited quantities available. Welcome the new year with richness, joy to bond with your loved ones for the coming reunion dinner!
Want to feel guilt-free this CNY? Enjoy all your favourite CNY goodies without fussing about the calories with our low-carb Keto bakes. Using xylitol and monk fruit sweetener which are natural sugar substitutes without any artificial preservatives, our cakes are keto-compliant and diabetic-friendly in support of the low-carb lifestyle.
Almond cookies
Enjoy this light and buttery cookies with a crunch of our roasted almonds. Get a jar of this goodness at $10.88!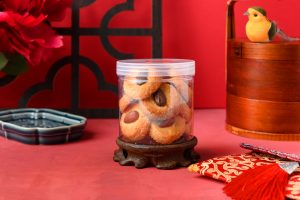 2. Kueh bahulu
Love the fluffiness of kueh bahulu? Enjoy a gluten-free and sugar-free alternative at only $8.88 that is low-carb, with zero wheat flour and sugar. Best of all, it tastes as good as sugar infused ones.
3. Kueh lapis
This $48 premium moist-layered cake is made of keto-friendly ingredients that are sugar and gluten-free. You can never go wrong with this highly favoured local delight.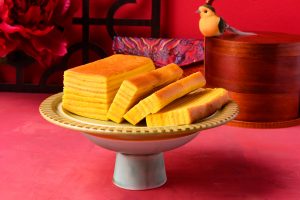 4. Peanut cookies $22
These keto peanut cookies are diabetic-friendly and gluten-free with a net carb of only 0.41g each! Peanut and cookie lovers would definitely love this, it melts-in-your-mouth and the strong peanut butter flavour would definitely satisfy your snack cravings!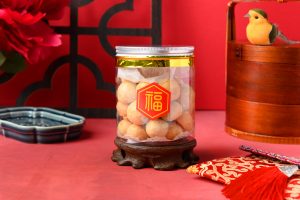 5. Egg biscuits $19.80
This Keto Egg Biscuit (鸡蛋饼) brings fond memories of the traditional kueh bahulu. Baked with premium keto four, collagen powder, and sweetener. Where else can you find guilt-free keto CNY snacks? Don't miss out on these guilt-free egg biscuits this CNY!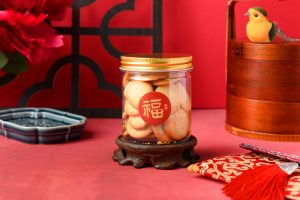 6. Chocolate chip $20
This chocolate chip cookie has just the right amount of sweetness. Pair it with our keto butter coffee for a sweet combination!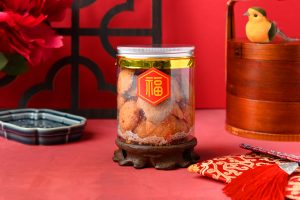 We understand the universal problem of pigging out right after making New Year resolutions to eat healthy. If you're struggling to keep your hands off the indulgent and addictive goodies, Ketomei's CNY keto-friendly, zero-sugar, low-carb and fat-burning foods will keep you in check without compromising on the taste.
So cow-nt those blessings and grab the bull by its horns as preorders are open now!