Are You Ready For Christmas? Enjoy Our Ketolicious Christmas Specials!
Embrace the festive spirit with our Limited-Edition Keto Christmas Specials! From the most iconic Christmas dish to something chocolate-y to spice up your Christmas mood. We're here to make your Christmas full of magic with our delicious keto meals! Be ready to toast to this holiday season and reminisce about the many that have come before. Let us share wonderful new memories together!
1. Christmas Special Keto Roasted Turkey 6kg ($158)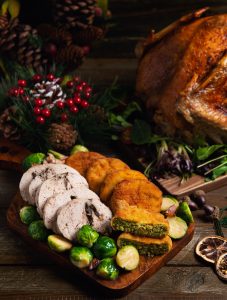 It's probably the most iconic Christmas Dish in history which is why our fellow keto community should not be missing out! (It's okay you can thank us later). We included black truffle minced chicken with 20% pork fat to compliment the tender, juicy slices of the oven-roasted turkey. The stuffings, our in-house giblet sauce, brussel sprouts and broccoli croquettes offer a great opportunity to pump up the flavor of your Turkey dish! 
2. Christmas Special Keto Seafood Platter ($98)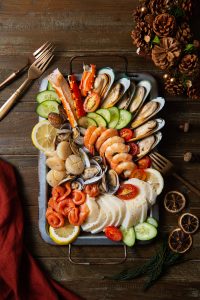 How do you assemble an impressive seafood platter? You don't! You let Ketomei do it for you. Brighten your Christmas table with our colorful Seafood Platter served with King crab, salmon, prawns, cuttlefish, scallops and clams! Not forgetting our home-made Lemon dressing to add to the finishing touch;  You bet you will wow your guests this festive season! 
3. Christmas Special Keto Roasted US Prime Rib 1.5kg ($180)
What's a Holiday Feast without its Centrepiece right? I'm not just talking about the flowers and scented candles but this is hands down one of our absolute favourite mains to date – It is our famous Roasted US Prime Rib weighing 1.5kg! It comes with salad on the side, roasted vegetables, red pepper mash and 3 pepper beef sauce! All you gotta do is, arrange these gorgeous beef slices on your favourite serving platter! 
BAM! You're ready to dig in. 
4. Christmas Special Keto Christmas Log Cake 500gram ($78)
If you're a sucker for desserts, or something chocolate-y to spice up your christmas mood, then you are definitely in for a treat with our Christmas Log Cake! This Chocolate Log Cake will knock everyone's socks off not just because it's gorgeous to look at, but its taste is truly unforgettable. It fills a chocolate sponge with chocolate cream covered with Ganache. Chocolate on Chocolate on Chocolate (YUM!) 
Chocolate lovers, it's time to test how much of a true blue chocolate lover you are!
Sharing the joy of Christmas with family and friends?
Don't worry! We've got your back as we also have CHRISTMAS SET MENU (For 6-8 pax) that included ALL of these SPECIAL DISHES for $488. However, REMEMBER! It is LIMITED FOR 30 SETS ONLY!
* DO NOTE THAT OUR CHRISTMAS SET CAN ONLY BE DELIVERED BETWEEN 21st December to 26th December 2021.
* We are open for individual Christmas Specials! Please order 4 days in advance.